About
Social Security Disability Attorney Colleen Russo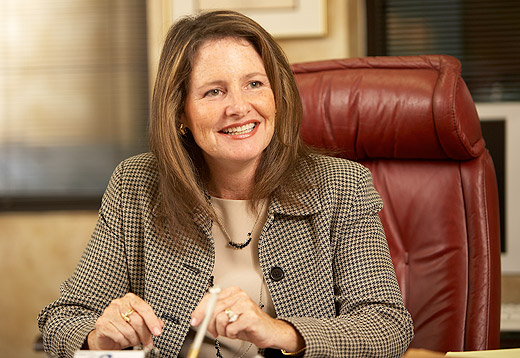 Over 25 Years Experience
St. Petersburg / Clearwater Attorney for the Disabled

Colleen Russo grew up in a large Irish Catholic family where sharing and acts of kindness were not just encouraged…they were expected. Both her mother and father were recognized for their many charitable works and contributions made to the community. Such endeavors were often directed toward helping those persons suffering from an illnesses or disability. They even included the creation of a private school bus system for the transportation of mentally disabled children to and from life-skill instructional classes. Colleen's parents were valuable role models who taught her the rewards that often come from helping those in less fortunate circumstances. Colleen Russo has spent much of her life helping others in need. In addition to being an effective advocate for the disabled, she has also actively worked to improve the standard of living for many Pinellas County residents. The St. Petersburg Times recently recognized her as one of Tampa Bay's "movers and shakers" who have demonstrated an outstanding commitment to the community. The newspaper listed Colleen among a handful of other local residents who have made a difference in "getting the job done." Colleen's dedication to helping others is readily apparent in her zealous efforts to secure Social Security Disability benefits for her clients. She takes pride in helping her clients regain the respect and dignity they deserve. If you are disabled and unable to work, Colleen Russo is ready to assist you in securing the Social Security Disability Benefits that you deserve.
About
Colleen's Support Staff

Brandy Henson Legal Assistant
Brandy is a lifetime resident of St. Petersburg. She completed a curriculum of Paralegal studies at St. Petersburg College. She has been employed by Colleen as a Legal Assistant for over eleven years. Her expertise includes fourteen years of working in law offices and handling Social Security Disability claims. Brandy has a significant background and understanding of the Disability claim process and is therefore very accustomed to answering client's questions about the status of their case or their need to secure documentation or follow up medical treatment. She regularly communicates with the Office of Disability Adjudication & Review. She is responsible for securing client's medical records, preparing exhibits and scheduling disability hearings before the Administrative Law Judge. As a member of Colleen's staff, the Attorney-Client privilege extends to Brandy and you can feel comfortable in discussing your case with her.

Hailey Praught Legal Assistant
Hailey graduated with Honors in English Literature from the University of South Florida, College of Arts & Science. She helps to schedule new clients to meet with Colleen for their free initial consultation. Hailey is also responsible for obtaining background information on medical treatments and other information necessary to complete Social Security forms. As a member of her office, the law extends to Hailey the attorney-client privilege. As a result, anything that you say to her regarding your case will be kept in strict confidence.

Shawn Crane Law Clerk
A native of Palm Habor, Shawn Crane graduated with honors from Wabash College in Indiana. Shawn holds Bachelor's degrees in both English and History. He is the son of longtime Pinellas/Pasco Circuit Judge Shawn Crane and, as such, his fascination with the legal system began at an early age. Shawn is currently enrolled as a second year student at Stetson University College of Law, where he has already completed a variety of courses, including constitutional law and civil procedure. Shawn is also passionate about giving back to the community, and is a volunteer in the Pinellas County Guardian ad Litem program. In his capacity as Colleen's law clerk, Shawn's duties include indexing client's medical records, preparing correspondence to medical providers and retrieving necessary documentation from the Office of Disability Adjudication & Review. As part of Colleen's legal staff, the law extends to Shawn the attorney-client privilege. Accordingly, anything you say to Shawn regarding your case is kept in strict confidence.

Christopher White Law Clerk
Chris graduated magna cum laude from Florida State University with a degree in Criminology and a minor in Psychology. After graduating with his Bachelor's degree, Chris worked for the Public Defender's Office for the 2nd Circuit of Florida. In that capacity Chris assisted many indigent clients with their ancillary problems associated with the Social Security Administration. Chris is currently a second year, honor roll Stetson Law Student and the son of a lawyer and former Judge Advocate. Chris is assists Colleen in preparing legal memorandums associated with the Social Security Administration's hearing level. He also brings to Colleen's attention any updates in the Client's medical treatment or summaries received from physicians or treatment providers. As a member of her office, the law extends to Chris the attorney-client privilege. As a result, anything that you say to him regarding your case will be kept in strict confidence.